Playing with the Big Boys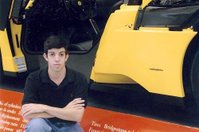 Those of you who read (or watched) "
Catch Me If You Can
" and thought that Frank Abagnale could never get away with such a brash scheme in today's world, think again. Check out
Michael Cassini
, but hold on to your wallet. He racked up fraudulent gains of $4.5M+ by the time he was 26 years old. This guy went from working as a temp at Microsoft (where he was canned because he didn't have adequate computer skills) to claiming that he was a "Microsoft Millionaire" and taking out (and defaulting on) huge loans at a number of Seattle and Silicon Valley banks.
I guess it was a good ride while it lasted. After running through $60K per month, buying a collection of Porches and Ferraris and putting down a deposit on a $5.6M airplane, he was finally caught.