And it's POISON DART by a NOSE!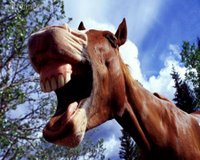 I've always wanted to bet the races in Hong Kong. It's the ultimate, urban racetrack experience. While Kentucky may have rolling hills and great Bourbon, Hong Kong has night racing, a skyscraper backdrop, a $40M+ nightly handle, and (apparently)
a device capable of firing poison darts
.
Speculation is that the triads planned to rig a few races by shooting a mild tranquilizer into some of the key horses, thereby increasing their take in illegal betting parlors. The device was reasonably sophisticated, utilizing wireless technology to enable remote triggering, and was found hidden in the turf near the starting point for some of the route races.
It just does to show you that no matter how old the sport gets, there will always be some new guy with a new plan to beat the races.